Here's a brief selection of the local news from the past few weeks in translated extracts from La Côte newspaper. Also, don't forget the Expat fair coming up this Sunday in Morges (see previous post below of 18th September)
Rolle
In Rolle there is a proposal for buvettes and cabonons (small cafés and huts selling commercial goods) to be temporarily placed along the lake side promenade next year. This is because there is construction work that is scheduled to go ahead in 2010 (in the main street – Grand Rue) and it will continue for approximately two years. Consequently, the municipality is looking to provide an alternative commercial and social area in the town while the work goes on.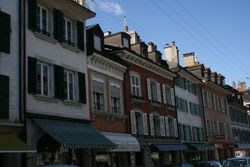 Nyon
Over in Nyon the new UEFA building is scheduled for completion on the 26th March 2010. There is a tunnel being constructed under the road to link the present building with the new one.
The no smoking law came into operation last week in the canton of Vaud!
There was a public debate two weeks ago on what to do with the area at the back of Nyon railway station, how to improve it and make the area look more attractive!
On the 11th October there will be a buvette installed down by the lake at the "plage" area. Initial plans are for it to be open on a Saturday from midday to 20:00 and on a Sunday from 10:00-17:00. Plans also afoot, are for a "dutch tub" and a sauna to be installed in January. These ideas to keep the plage area "alive" in the winter come from the l'association des Trois Jetées, a group of enthusiatic volunteers. Inspired by the Bains des Pâquis area in Geneva they formed an association just 6 months ago. Two weeks ago they organise a masked swim in the lake and Living in Nyon was there to take a few photos from that fun day.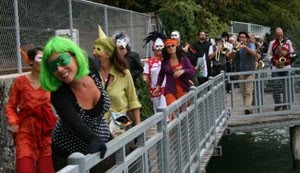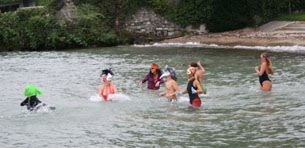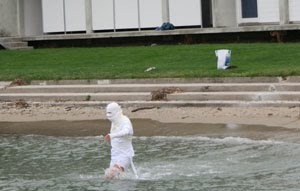 Over in Morges
La galley ship La Liberté that is moored in Morges will probably have to move to a new port in Montreux (due to financial reasons) See previous post about this lovely ship.
Prangins
In Prangins there is a proposal to transform a renovate the Auberge Communale which is in the centre of the village.
Finally, if you think you have seen storks flying around in the sky you are not mistaken! They do stop here en route on their migration from Western Europe to the Maghreb area of Northern Africa. They are usually only here between the third and fourth week of September so keep your eyes peeled if you do not want to miss them!