If you are a Nyon resident and you want to take your recycling to the Nyon déchèterie (recycling centre- dump), from now on you will need to show this this sticker/label in the photo below to enter the grounds. These labels have recently been produced by the council for Nyon residents only. At the moment, people from other communes have also been taking their rubbish and recycling to the déchèterie and it is now reaching full capacity. You should have received this sticker in the post inside an envelope saying "Information aux habitantes et habitants de Nyon -Attention Macarons d'acces à la déchèterie dans cette envelope".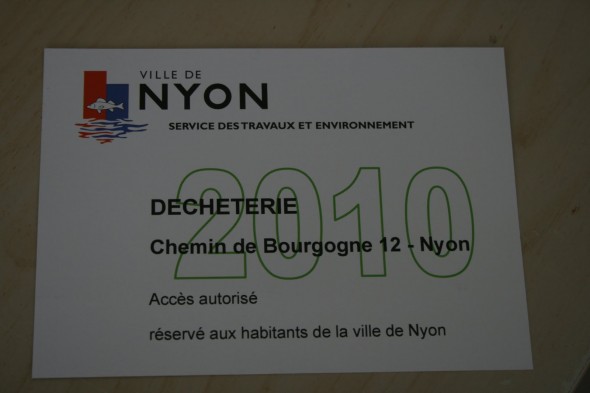 Last weekend in Nyon
Last weekend there was lots going on in Nyon with L'Interculturelle on both Saturday and Sunday, and the final night of Caribana followed by Caribakids on Sunday. If you missed out on either of these, do not despair as this coming weekend it's "La Fete de la Musique" in Nyon with lots on the agenda, so watch this space for more information.
The final night of Caribana ended in superb style to celebrate its 20 year anniversary with large crowds present for both Sean Paul and Madness. Over on the lake stage, fans of Mama Rosin danced away to this very popular Genevan band and their unique sound of Cajun Blues and Rock. The introduction of more seating areas in the food areas at Caribana this year proved popular and the new quieter accoustic stage was also deemed a success.
Thankfully the weather stayed fine for the last night which  meant that the moment lead singer Suggs from Madness kicked the set off with "One Step Beyond" , the atmosphere was set to end the festival in an upbeat mood. When they finished with "Our house in the middle of the street", the crowd were ecstatic and happy: another very sucessful Caribana over until next year.
The crowd went mad for Madness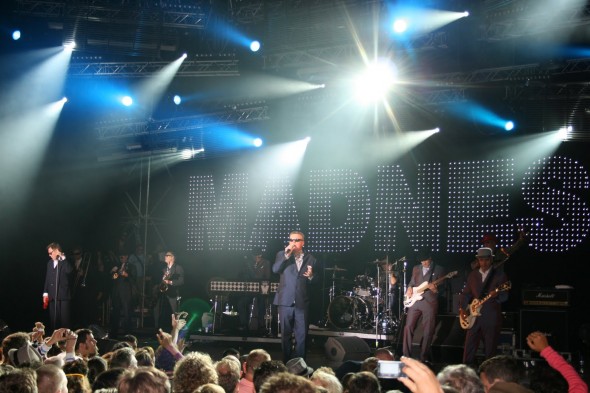 L'Interculturelle
Also on Saturday in the early evening at the Salle Communale, there was a pot luck meal as part of the L'Interculturelle events. The flower displays were decorated in flag serviettes and the tables were full of food from around the world. There was Dolmeh from Iran, Spanish Tortilla from Spain, Bigos from Poland, Nasi Goreng from Malaysia  and much more (including treacle tart and shortbread from your Living in Nyon correspondent) plus scones, flapjacks and cottage pie from the International Women's Club of Nyon.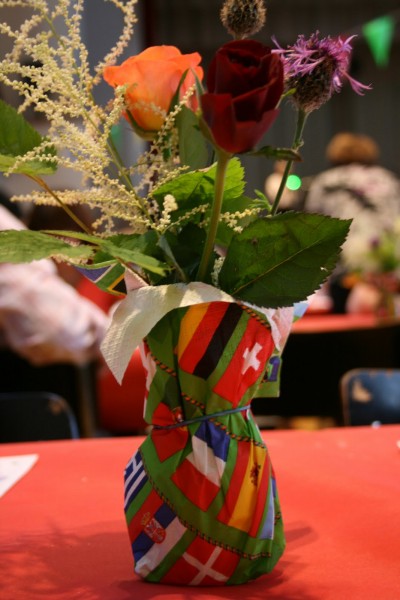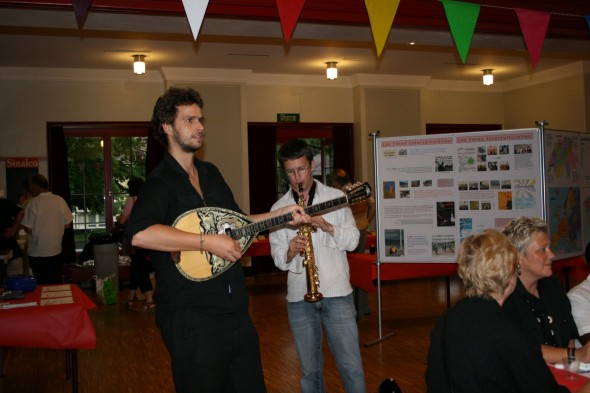 Also at the event were a series of panels outlining the history of immigration to Nyon over the years, it showed the proportion of English speakers back in 1989 and then in 2009. This exhibition is die to be shown again in Nyon in September.There were also photos of old adverts for local businesses too such as this one below for Pizzeria da Mario which is now the Croix Verte!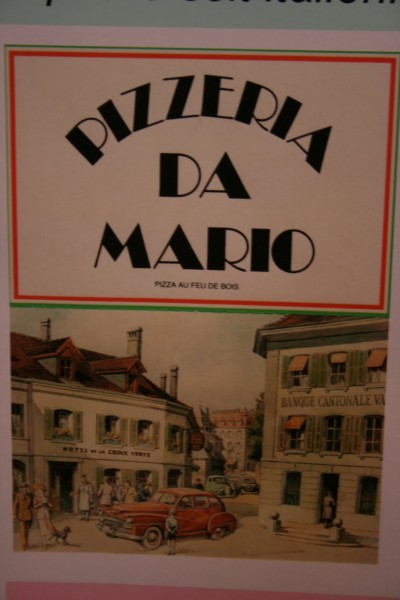 Sharing wine, food and other cultures in the Salle Communale