The snow settled in Nyon on the last day of the 2008. The town was full of folk buying champagne and trudging though the snow to get last minute celebratory supplies. The DVD/video rental shop had a long queue of those planning to stay in and watch movies over the next few days and La Cote newspaper's end of year edition, featured the highs and lows of 2008.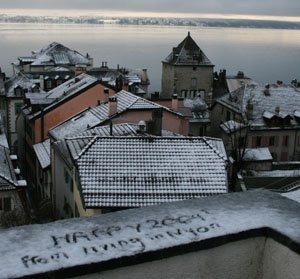 In the afternoon on the 31st there was a beautiful light across the lake viewed from the chateau.
Living in Nyon will be back on the 12th January with more info, news and photos, although if the weather is good I might be tempted to go and take photos of the brave souls who will be swimming in the lake on Sunday 4th January at 12:00 (near the trois jetées) So keep checking in!
Happy New Year to you all.