Looking for property in this area is like looking for a needle in a haystack. It's there but you really have to search and dig deep to find it. It's a fact that at the moment demand for property in Nyon and the Vaud area, is greater than supply. Although I have previously covered this topic under Frequently Asked Questions, I have recently received so many emails on this subject, here's a summary again with more info.
Looking for property – Do it Yourself
Whether you are looking to buy or rent, (with the exception of new builds) you don't usually see estate agents boards outside houses as you do in other countries. If you do, it will say "A Louer -To Rent" and give the details of who to contact. Knocking on the door of a house without an appointment isn't really the done thing!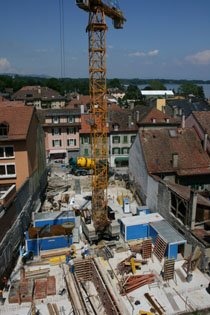 There is some construction going on to address the housing shortage, but apartments are often snapped up at the planning stage and before the first brick is even laid.
So the first step is to visit all the estate agents (régies) in the town near where you are interested in living in or near, Nyon, Rolle, Morges etc. Register with them and give them the details of what you are after. Take note that in Switzerland the number of rooms are counted in "pièces". It is different in Geneva to Vaud, Geneva considers the kitchen as a "pièce". The border between Geneva and Vaud stops at Versoix.
The local newspaper La Cote ( covers the area Coppet to Morges), carries adverts for rentals and most of these appear in Thursday's edition. If you haven't yet moved and live outside Switzerland and you are hunting for property, then you can subscribe to this paper online but do take note, that property goes very fast here, it is better to be on site. Catch 22, I realise on this one.
Make sure you ask around in the company or organisation you are going to be working for, word of mouth often helps and there are usually others there who are moving out or moving in. Take a look at the side bar or in the classifieds of this Living in Nyon site too, sometimes I place adverts of property that's available. Occasionally you will see an advert on the community noticeboard of a supermarket or in a village shop. Look everywhere!
There are various online sites that list property.
Know-it-all from the Know it all Passport book. This is an essential guide to Geneva,Vaud and neighbouring France and I would really recommend you buy it even before you arrive here. It has lots of useful hints and tips, and lists real estate agents.
Immostreet a property site, the link here is for the English section.
The Classified section of WRS, the local English speaking radio station. They also have a programme (you can listen online) each Friday morning betwen 09:00 and 10:00 (Swiss time) called the "Classifieds". This is a section where listeners call up with cars for sale, property to rent, etc. Its a good programme to check into as there are often people leaving who are selling a lot of their goods, so its a great chance to pick up a bargain.
Swisster English news site for this area, articles often cover housing issues.
GenevaLunch A community newspaper online with articles in English relevant to living here. Has a guide section with advice on managing your finances here
Glocals Networking site. Carries a link to "market place" in English for housing.
Anglo Info An English guide to the area, includes classifieds.
I Love Geneva Website in English and French
Tribune de Geneve Newspaper in French, this link is to their housing section
Looking for property – Getting others to do it for you
If all the above seems a bit daunting and you don't understand French yet, then it may well be worth thinking about using a relocation agent. If your company offers you the service of one, then grab it! If you are looking for somewhere to live, sometimes you could be up against three or four other families who want the same property. When the owner makes the decision to allocate it to someone, that decision isn't always to do with money, it can be down to many factors.
A relocation agent will often know the regie or the owner and will have built up a relationship with them over the years. They know what's out there on the market also and can act quickly on your behalf. Having said that some folk have found property on their own without using an agent, but they usually have had some level of French to do this. There are many relocation agents working over here, some very good individual ones (I can personally recommend Droz Relocation. Email: caroladroz-meyer@bluewin.ch) and there are others that work for larger companies, many of them are listed in Know it All (see above)

Commuting from your home.
Some readers who have contacted me say they want "ease of access" to work in Geneva, Lausanne, Morges etc. For this I would really recommend thinking about whether you mean via car or train. Remember that the train system is very efficient here and Switzerland has a high rate of rail commuters. So if you are going to be living near, or can park near a station then in the words of an old British advert "Let the train take the strain".The integrated public transport system is very good, it links the buses in the villages in the Jura with the train system, at commuting time at least.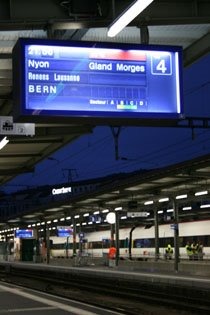 All of the above is not a comprehensive list, but the sites listed will link to the majority of sources here. I am afraid I can't respond to individual requests to find property, but I'm happy to place an advert on this site if you are looking all for a very small fee!
Best of luck to all those looking for property. Bonne Chance!