Event this weekend, "The Pink Ribbon Trail".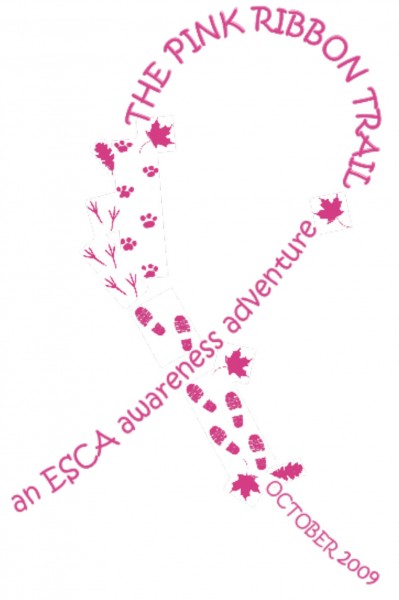 To celebrate Breast Cancer Awareness month, ESCA (the English speaking cancer association)has organised a day of guided walks in the nature reserve of *Jussy this Sunday October 4th. Walks start at different times of the day (see below) and are suitable for children too so the whole family can go!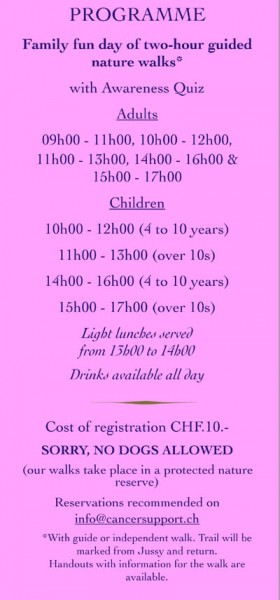 In the company of two experienced naturalist guides you can learn more about the environment, there are guided walks for adults and children (cost: 10chf per person), and light refreshments all day, plus a quiz to test how much you really know about healthy living and the natural world of Switzerland.
Full details on the ESCA website http://www.cancersupport/.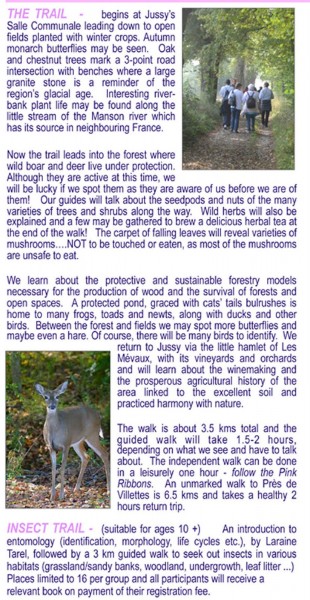 The trail is organised by "A Different View".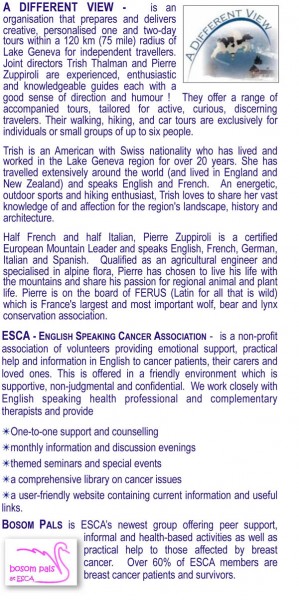 * Although Jussy is not in the Nyon area, this is a worthwhile event that Living in Nyon is happy to promote, and its always good to discover other cantons of this beautiful country!
Jussy is situated at the north-east corner of Geneva Canton and eleven kilometres from the city centre.The village of Jussy rises to an altitude of 473 metres with the highest spot in the canton being the hamlet of Monniaz at 516 metres above sea-level.
The commune of Jussy is an ancient episcopal mandate which was historically closely linked to the city of Geneva and subsequently to the Geneva Republic. Lying as it does well beyond the city limits it has preserved to this day its agricultural character, largely due to the 20 farms and vineyards still in operation, and also possesses an extensive wooded area, much of which is a protected nature reserve.
Inhabitants of the village call themselves "Jusserands" and enjoy a lively social scene, marked by the village band, the famous "pig derby" and the annual half marathon.
Professionally, Jussy is the home commune of the famous Horticultural Training Centre of Lullier with its highly reputed agricultural engineering school, an
association which underlines Jussy's rural identity. The village welcomes the numerous walkers who enjoy the countryside of this corner of Geneva canton, and is
firmly focused on respect for the environment and the preservation of its natural beauty for future generations.