While the adults are having fun and the bands are rocking away on the main stages in Paléo, the children aren't forgotten over the six day fest. Not only is there is a dedicated area for them called "La Ruche" with performers and artistes, but next to this, an enclosed area called "Mielimelo". Although the area is for children, parents can stay if they want or leave their children* while they go and enjoy the music for a while. It's a no smoking and alcohol free zone, with games, seating areas, a mini theatre with daily performances and a dedicated group of volunteers who look after the children.
"Volunteering at Paléo can often be a family affair"

Isabelle Pirro – Supervising the MieliMelo area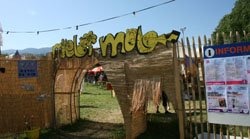 Supervising it all is Isabelle Pirro. She is in charge of organising the 8 adults and 32 adolescents (teenagers between the age of 14-18) who are there to entertain the children. Although she is head of it all, she stresses that it is the teenagers themselves who decide on the decor of the area, the games to be installed, and it's mainly the teenagers who play with the children too. The adults are there just to keep an eye on things. Like many volunteers in Paléo, Isabelle takes her holiday vacation throughout the Paléo week, (she works with children in a professional capacity) such is her dedication to the event, she has been volunteering at Mielimelo since 2001.
"All the team meet in March and the volunteer teenagers make suggestions of what they would like to do for the area. We take their ideas on board and work with them. For example, some of them came up with the idea of using old oil drums to make into something for the area. So we got hold of some drums, we cut them in half, experimented a bit, styled them, painted them, found some plastic piping around Paléo for the inserts and we turned them into chairs!"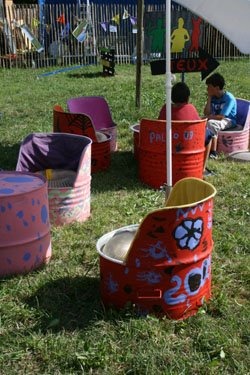 "The teenagers decorated the area and introduced new games, we spend more or less a week getting the area ready. Some of the teenagers are children of adult volunteers working in a different area, working at Paléo can often be a family affair."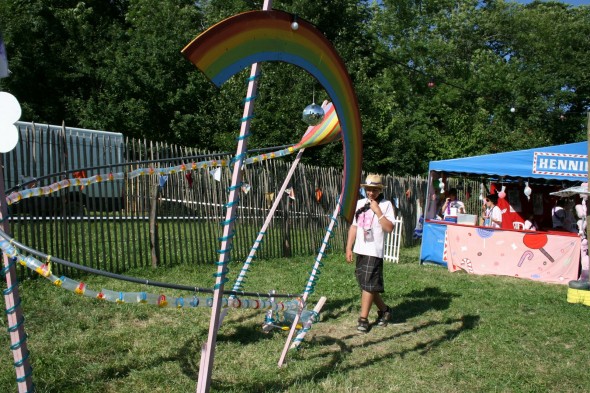 "If parents want to leave their children here for a while, we take their mobile number and we give them a sticker with the name of their child on when they come to collect them, but ultimately its is the *parents who are responsible".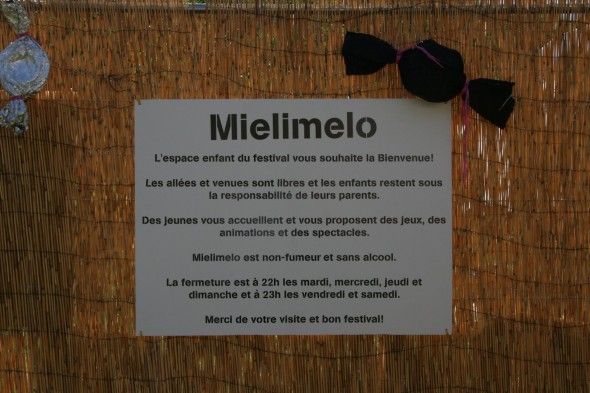 "As the MieliMelo area is away from the main music stages, it is often a place that the parents appreciate too as it's quiet and is there is a comfortable seating area for the children to read or to "chill".
"We can get busy though, particularly if there is a popular French band or singer on at the main scene and the parents want to see them! However we are not an all night childcare facility, we close at 22:00 during the week and 23:00 at the weekend and we don't expect parents to leave children here for hours and hours, we are volunteers after all!
"When the children are here there is free "sirop" drinks and candy floss on offer.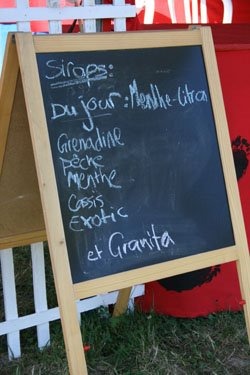 There's face painting and whole host of other activities, workshops and various theatre productions, such as a puppet production called "Cinderella and her Crocks",
We have magicians too! If it rains, the theatre tent doubles up as shelter!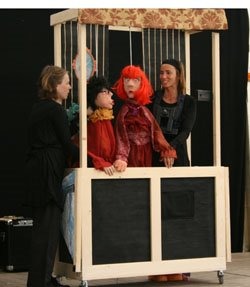 Last night the area was full of happy children and over in the music area, happy adults too. A winning combination. Reviews of the first night's music coming up later.
Shows for the children at Mielimelo this week
Wednesday – Cinderella and her Crocks 18:30 – 19:15 Puppet show
Thursday + Friday- David and Shane (magicians) 18:00 -18:30 Workshop 20:30 – 21:00 Show
Saturday – Aurélien Donzé and Baobab Theatre 17:00 – 17:45 and 20:00 – 20:45 Sunday – David and Shane 16:45 -17:15 workshop 19:30 -20:00 show
Note: one of the Magicians is English which might be useful for the workshop!