If you have just arrived in Nyon and don't have a car, but would like the use of one from time to time, then there is a great car sharing system available here, and in the rest of Switzerland called "Mobility". It has cars parked at Nyon railway station and other *places around the town, and you can reserve them online making it very convenient to use. The minimum car rental is for as little as one hour!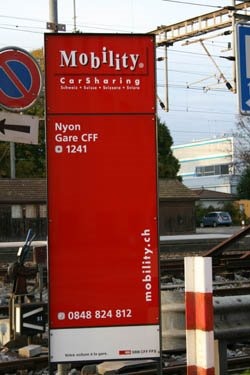 To quote from their website:"Mobility lets you use a car round-the-clock on a self-service basis with all its benefits, but without the financial disadvantages".
There are over 2, 000 vehicles at 1,050 stations throughout Switzerland, so it's a great idea if you are planning a holiday and intend exploring the country but you don't want to drive a long distance. Once registered this service enables you to take the train and then hire a Mobility car at the end of your journey. A trial subscription for 4 months costs just CHF 70.
Their site is in excellent English and has a frequently asked questions section on how Mobility works, with a price comparison table on the advantages of using this service as opposed to buying a private car. It's easy to drive off too as you simply hold your Mobility-Card against the redsticker on the windscreen. The central locking disengages automatically. The boardcomputer then confirms your booking and displays your reservation et voila! Check their site out for more info and happy driving!
* The other places around town are Place du Chateau, La Levratte, and La Combe