There is always an eclectic choice of goods at the fleamarket in Nyon. These "puces" take place every month down by the lake, they alway attracts a good crowd and Sunday was no exception.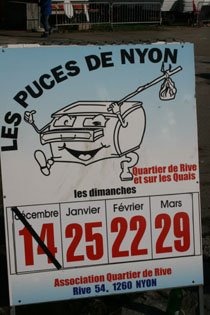 Items on sale ranged from a flag of Che Guevara, to postcards of the area, to Vaud sausages and unusual objects from around the world. The stall holders display their wares in imaginative ways too! Check out the musical instruments and lampshades hanging from the trees in the photos below. These and the sun brought a smile to those who were out and about either looking for a bargain, or just wanting to potter amongst the stalls.
Too look at the photos click "play", they take a few seconds to load, then when you click each image, you can see it in full colour. The tea being poured from on high was being served by Junes Zerrouki. He has a stall down at the market in Nyon selling herbs and spices, and other Moroccan goods. The mint tea was certainly a winter warmer last weekend! The next market will be on the 22nd February.