Flying above Kilimanjaro, looking down at the spectacular Andes from a cockpit or landing at Kai Tak (the old Hong Kong airport) are among the favourite memories and routes of retired *Swissair pilot Eric Bieler, now president of the Conseil Communal here in Nyon. Surprisingly after a career taking him across the world, he no longer has the great desire to travel long distances and now has his feet firmly on the ground. "There is so much to see in Nyon,Vaud and across Switzerland, I don't need to travel far to see beautiful places, they are all on our doorstop."
Like many people who have retired, he finds his schedule busier than ever. "Even more so than I when I was pilot. Once you have landed and pulled on the parking brake of the plane you can pretty much relax and enjoy the city you have arrived in. The only person you have to worry about is yourself, whereas here, as president of the conseil communal, I preside over meetings of 100 elected members and because of this I'm very aware of many of the latest issues."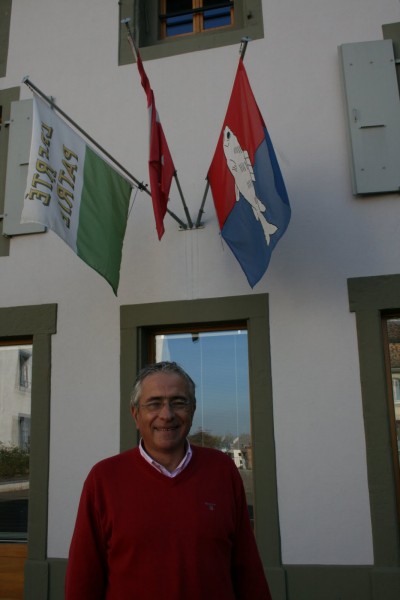 "I cannot walk around the town without noticing things or making a mental note on issues which council members are concerned about. There are common subjects that we often discuss in meetings: namely traffic problems, urbanism and taxes, but whatever is discussed, like in many meetings all over the world, sometimes we can pass a motion in five minutes that authorises the spending of 1 million Swiss francs, but we can spend hours discussing the authorisation of a small figure such as 5,000 Swiss francs!"
"Despite some of meetings which can be long (and which I try to keep as short as possible) we still have a dedicated group of individuals who are willing to be council members and come out on cold winter nights to attend meetings and to vote on and discuss local issues. These members come from all walks of life and nationalities and are representative all political parties. There are members from the U.S, Britain, Kosovo, etc. We have one Swiss lady, Madame Gabrielle Ethenoz- Damond who who has been serving on the council committee for 50 years!"
The president of the conseil communal is an annual position (Eric was previously vice president) and along with heading council meetings he also supervises the votations in the local elections.
"I do this job happily as I get great satisfaction by putting back something into the community I live in, and I enjoy meeting people. I have been here since I moved from Lausanne in 1981 and although I know Nyon very well I'm always learning something new about the town. " Even when I was travelling for work I always took an interest in the social side of Nyon life and became a member of various social sporting and philanthropic associations.
Eric is married with two grown up children and when not sat in council meetings, he is also president of the local tennis club and president of the Conservatoire. Any free time he has, he enjoys snowshoeing in the mountains in the winter or taking his motorboat for a spin on the lake in the summer.
* Swiss International airlines used to be called Swissair
** There is an opportunity to hear more about Swiss national politics and meet some Nyon council members on January 28th, see Swiss Politics for Dummies event on right hand side bar.