Welcome back. I hope you had a good Easter and you enjoyed the fine weather over the holiday period.
There are many activities coming up on the local agenda which I will be featuring on here over the next few weeks.
Last Easter weekend CGN (the ferry company) changed its schedule to a Spring time table and increased the frequency of the crossings across the lake. April, May and June are often a good time to take a cruise, the boats are not as busy as later on in the year during the the main summer tourist season. Don't forget if you have a demi-tarif (half price) train pass, it is valid for tickets on most boat journeys.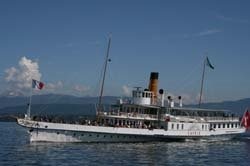 Still down by the lake, the Musée du Léman has a new exhibition called "Léman Maniac", a varied selection of objects collected by the museum since 1954.
Next Sunday, the 19th April it's open day at the Tennis Club of Nyon from 11:00 onwards. On this day you can test the courts out and have a game for free. There will be a fashion show at 16:00, a bouncy castle for children, and the chance to test your tennis speed of service!
This Thursday 16th, the line up for this year's Paléo music festival is released and tickets go on sale the following Wednesday 22nd at 12:00
Next week, the Visions du Réel documentary film festival comes to Nyon. I will be watching some of the films in advance and reviewing them on here, and giving you full details of when and where they are showing so you too, can go and see them.
This week's Living in Nyon column on Friday in La Côte newspaper will be all about chocolate and what the dark stuff means to different nationalities. Check it out!
Finally, a bit of an advance warning, in May, this site will be one year old! Its hard to believe but it has been a full twelve months since it began in a small way with a just a bit of online information and news. It has come a long way since then so there will be a Living in Nyon event for readers to celebrate this, and as usual a special invitation and welcome to newcomers to Nyon. At this stage I am not sure whether it will be a pizza evening event, or a "drinks" evening and the date has to be confirmed but whatever it will be, it will be a celebration!