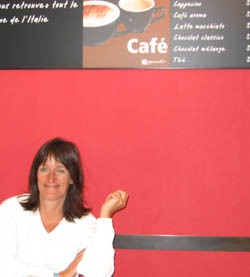 The Author
I am Catherine Nelson-Pollard, a British freelance writer. I also present a programme on World Radio Switzerland called "The Connectors". I edit the Romandie section of a magazine called Hello Switzerland, (this magazine is free on subscription). I also write a Friday weekly column in English in La Côte newspaper, the column is a light hearted look at life along the lake.
I also have a website with published work and more info.
This blog came about, because after nine years of living here and being asked many questions about Nyon, I decided the next logical step was to create a site based on my knowledge and the advice given to me. I also love this town and area and want others to appreciate it too. My other blog is called the The Perpetual Expatriate which comments on life in Switzerland.
I haven't tried to reinvent the wheel on this site and list lots of info, there are plenty of other places I suggest you look at, all with excellent resources.
Please note also that although the facts were checked when I started the blog, things could well have changed by the time you log on here, so the usual disclaimers apply. I am writing this blog purely on a voluntary basis (and usually late at night) so errors and typos can creep in !
The Photos
The photos on this site are all mine and are all scenes from around Nyon and its area.  If you want to use anyof them, send me an email. You never know, depending which photo it is, I might just oblige, especially if you ask nicely.
Thanks for taking a look at this site. If you feel it has helped you or if I have missed anything, then let me know. I welcome feedback.