For those of us who are lucky enough to live in this area we know how beautiful Lac Léman can be. Throughout the seasons it remains a source of inspiration to writers, photographers and artists.Not only is Lac Léman the deepest lake in Switzerland but Nyon even has a museum dedicated to it. For walkers there are many paths along its shores or above it to enjoy its beauty.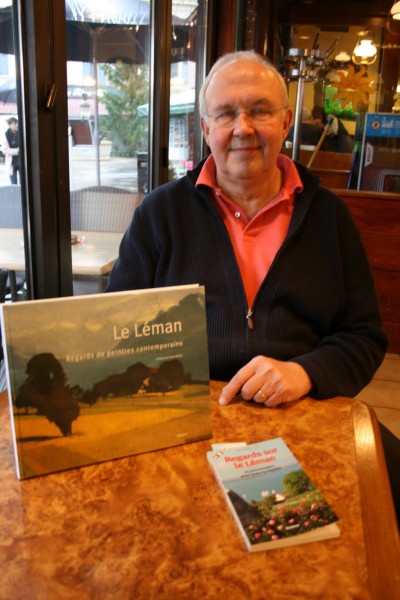 Erik Chrispeels is a local author who loves Lac Léman with a passion and has written and compiled various books about it, one of them a book for walkers and another a collection of paintings by local artists.
His book "Regards sur le Léman -75 promenades pour toute la famille" (Views over the lake – 75 walks for all  the family) is a handy pocket sized book which features circular walks of various lengths and difficulties, but all with one thing in common: a view of the lake.
Erik originally from Belgium, has been living in  Switzerland for 40 years, he worked for the UN as a legal counsel and now lives in
Prangins
. Living in Nyon met Erik down by the lake (where else?) to talk about his various publications and to ask him what inspired him to write and compile them.
"When I first starting walking in this area I followed other hiking books but I often became disappointed as not all of them had a view of the lake. Where it did, there were often electricity pylons spoiling the view, the walk wasn't interesting or it led you to an area at a ski station which out of season, looked a bit forlorn.
I also wanted a circular walk that did not involve complicated logistics in getting back to the start point. So I decided to write my own book which not only had good walks but included interesting perspectives. I tried out each walk on average at least four times, it took me around three years to get to the stage where I felt I knew them well enough to recommend them. Once the book was published, 30 of the walks were then reproduced in La Côte newspaper and they seemed to be very popular.
Ed's note: Even if you are not fluent in French, this book it easy to understand, and if you translate a few words before you set off walking, you should not have any problems. The maps are clearly laid out and there are practical tips such as where to park, the length and difficulty of the walk, which maps cover the particular walk, and suggested places to eat along the way. All the walks are circular.
Erik continued, "Although the title of the book means "views of the lake" it can also means "perspective" of the lake, and the book is essentially my perspective of it".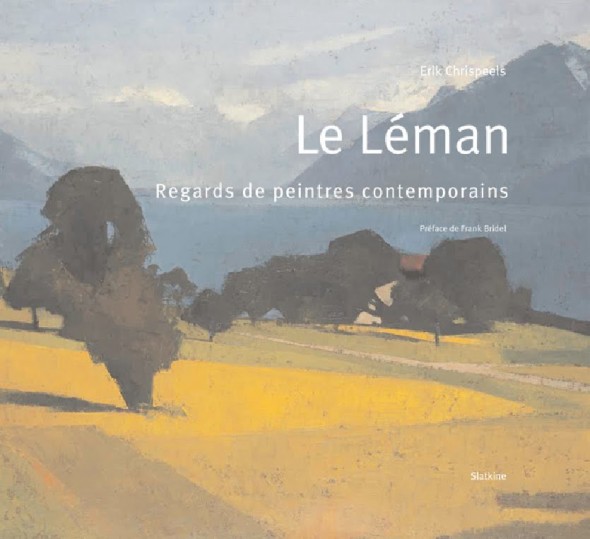 "Through this book of walks I then became interested in other peoples' perspectives of the lake: in this case, those of local artists. I come from Belgium where the landscape is basically flat, whereas here the topography is so varied and the different landscapes around the lake can produce many emotions. I was keen too see how others felt and interpreted it through their art.
So that is how the next project came about. I visited artists in the Léman area and I asked fifteen of them to each submit five paintings for a book on art of the lake. One of the criteria in choosing the artists was that they must  have been living here for at least twenty years, so they must really know the area. What resulted was "Le Léman – Regards de peintres contemporains", a collection of panitings from watercolours to oils, all painted by very different artists with their unique style. Some of them were happy to talk about their work and explain how they had  interperated the lake, others were reticent to talk, believing the art spoke for itself.  Some of the artists have been painting all their life. One of them, Walter Mafli is now in his 90s. Some artists are famous and their work sells for a considerable sum – others maybe not as well known but what they all have achieved is bringing the lake to life in a lovely art collection.
Ed's note: This book would make an ideal Christmas present. Erik Chrispeel's books sell in the Libraire du Château in Rolle, in La Combe shopping centre in Nyon, in La Librairie in rue des Fossés in Morges.  See Erik's own website, for details of his publications and names of all the artists in the book.